GET A FREE PPF CONSULTATION TODAY
At Carttitude we specialise in the application of Xpel PPF (paint protection film), which is a clear, self-healing film that is applied to the surface of a vehicle to protect it from stone chips, scratches, and other types of light debris. We are considered leaders in this field because of our experience and expertise in the application of this product. Our highly skilled certified installers have been trained to apply the film to the highest possible standard, ensuring that it will last beyond Xpels 10 year warranty if maintained correctly.
Our journey has been driven by a passion for perfection. Trusted by top brands such as Xpel, Gtechniq and Rupes, we've been building a trophy cabinet of certifications and accreditations since 2016. Our team of highly trained technicians have clocked up over a decade of experience between them, recognised by our accreditation to the International Detailing Association (IDA).
As an IDA Certified Detailer, we're committed to a code of ethics, a level of professionalism and a mastery for detailing, that represents the pinnacle of the profession.
Located just 10 minutes from Manchester City Centre in a secure, purpose-built facility, we're able to use the latest technologies, materials and equipment to care for your car.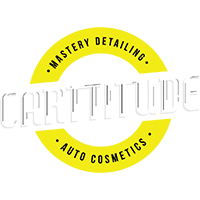 Have a look through some of our recent projects below, you can also watch the feature length episode that dives deeper in to the project showing you exactly what we offer from start to finish.
OUR CLIENTS' LATEST THOUGHTS
Positive: Professionalism, Punctuality, Quality, Value
I have taken two cars for front end Xpel PPF treatment. The staff are extremely professional, knowledgeable and friendly.
The attention to detail is second to none with exceptional results. I would recommend anyone to visit Carttiude if they require any detailing services. I will go back to Carttitude in the future for any work that I need. Brilliant results
Positive: Professionalism, Punctuality, Quality, Value
Excellent service each time through from booking , keeping in touch to the finished result !! Used these guys for 3 years now and wouldn't use anyone else for what they do!
Positive: Professionalism
I recently had my m3 in for a PPF repair and a ceramic coat and the results were far more than I expected. The car has never looked so good. Big thanks to the guys at Carttitude for a great all round job highly recommended.
These guys love what they do and it really shows! Highly recommend to anyone who is looking for any level of bodywork protection. They have many options to suit and their service is amazing! We've had two cars done and we will be using them for many years to come! Update: they've done PPF on another car for us, great finish and service as expected!
Positive: Professionalism, Punctuality, Quality
These guys are awesome! Claudio and his team really know their stuff when it comes to car detailing. This was my first time using their services but I was made to feel relaxed from the get go mainly due to Claudio's knowledge and experience. I had front end PPF along with ceramic coating. My car looks absolutely stunning! Thoroughly recommended!
Positive: Professionalism, Punctuality, Quality, Value
There is only one place to go if you want the best of detailing, PPF, Ceramic coating for exterior or interior at a fair price with excellent customer service - Carttitude! Claudio was fantastic and professional throughout the whole process and delivered on his promise 100%. Highly recommended, you will not regret it. Dont go anywhere else if you can get the whole package here. Thanks Claudio.
Positive: Professionalism
MASTER DETAILING IN MANCHESTER
I would highly recommend to all, there might be cheaper out there however if you are want the BEST care for your car this is the place to go.
Claudiu and the team help you tailor the right protection package for your car. You are well informed throughout the process and I was regularly updated with images of the work carried out.
I had completed on my E63 EXPEL front PPF, Gtechniq Ceramic coating, Break Calipers re-sprayed, tinted lights etc. Every job was completed to the highest standard with excellent aftercare available for your piece of mind. Look forward to working with the team in the future!!!
Professional, helpful and friendly staff helped me understand the best paint treatment for my Mercedes. Their service was absolutely top-notch and my car now looks a million dollars after being ceramic coated. I would recommend them to anyone without hesitation.